China combats air pollution with tough monitoring rules
State media acknowledge role of online environmental activists in forcing government to act on poor air quality in cities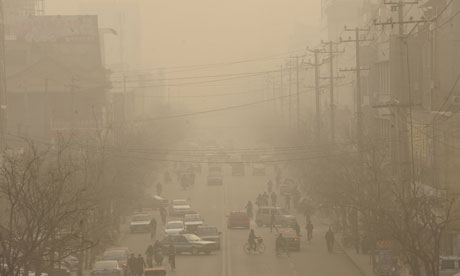 Smog down a main street of Linfen, in China's Shanxi province.
Photograph: Peter Parks/AFP/Getty Images
Chinese authorities have set tougher rules to combat air pollution by
ordering all major cities to monitor tiny particles that do serious damage to health
. One of China's leading environmental activists, Ma Jun, greeted the change as a major step forward.
Surprisingly, given China's strict control of the internet, state media have acknowledged the change is partly in response to online environmental campaigners.
The national air quality rules were agreed at an executive meeting of the state council presided over by the premier, Wen Jiabao, on 1 March, a statement on its website said.
They order stricter air pollution monitoring standards this year in the mega-cities of Beijing, Shanghai, Chongqing and Tianjin, 27 provincial capitals, and three key industrial belts: the Yangtze and Pearl river deltas, and Beijing's hinterland. Another 113 cities must adopt new standards next year, and all but the smallest cities by 2015.
To "help allay public concern over official air quality readings", levels of ozone and PM2.5 particles must be included. PM2.5 particulate matter is below 2.5 micrometres in diameter, or 1/30th the width of an average human hair, and easily penetrates lung tissue.
"This is a major step forward in terms of China's process to combat urban air pollution," said Ma Jun, director of the Institute of Public and Environmental Affairs. "The prerequisite for mobilising our people is to let them know what is going on.
"It doesn't mean that the sky will turn blue automatically because at the end of the day we still need to cut off these emissions."
Following the announcement, more than a million – mostly positive – comments were posted on the Weibo micro-blogging service in under 24 hours. "Good news, applause," wrote Xu Xiaonian, a prominent economist. Others questioned whether the rules would be enforced.
In January, Beijing's environmental agency included PM2.5 particles in its calculations after months of postings from netizens mocking the discrepancy between officially clear days and the dense smog at their windows. Ma said social media had played an essential role in changing government policy last year.
State media also acknowledged the role of bloggers: "A stirring campaign on the country's social network websites since last autumn seemed to have gained a satisfying response from the country's policymakers," Xinhua news agency said.
-------------------------------------------------------
The heavy smog and haze that shrouded Beijing on the weekend — pushing the pollution index to a record high — has been dubbed the "Beijing Cough" by the city's expat community, becoming increasingly popular with local media and Chinese.
Meanwhile, many other cities also witnessed smoggy weather on the weekend. On Saturday, levels of PM2.5 passed 300 micrograms per cubic meter in 33 of the 74 cities with systems equipped to monitor the particles. Face mask sales surged and hospitals crowded with sick people in cities across the country.
Modern toxicology research has shown that exposure to PM2.5 can lead to significantly increased death rates due to
cardiovascular, cerebrovascular and respiratory diseases
, as well as increased cancer risk.
BEIJING - Beijing air pollution reaches dangerous levels.
not only in Beijung: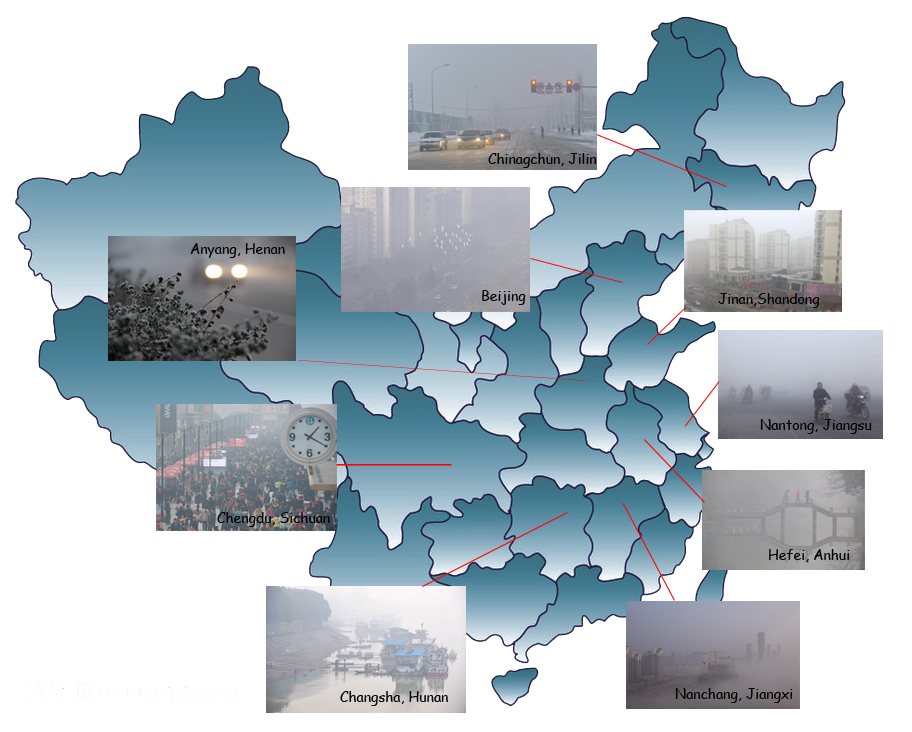 Beijing's air pollution reached dangerous levels yet again on Sunday, marking the third consecutive day of severe smog, municipal environmental authorities said.
The municipal meteorological station issued the city's first orange fog warning Sunday morning due to decreased visibility caused by the heavy smog.
Monitoring data released on Sunday showed that air quality indexes in most regions of Beijing had hit 500, the indexes' highest level.
"Beijing implemented its emergency response plan for hazardous pollution for the first time on Sunday," said Yu Jianhua, director of the air quality department under the municipal environmental protection bureau.
The plan, issued last year, includes multiple measures to combat and respond to hazardous levels of air pollution.
The plan calls for construction sites to limit construction activity that creates large amounts of dust, as well as asks industrial enterprises to reduce emissions, during hazardous pollution days.
The plan also requires municipal traffic authorities to limit government vehicle usage during smoggy days, with the goal of reducing such usage by 30 percent compared to normal days.
The plan also calls for education authorities to instruct schools to limit or completely stop outdoor activity during periods of heavy air pollution.
The municipal environmental monitoring center said readings for PM2.5, or airborne particles measuring less than 2.5 micrometers in diameter, had reached more than 700 micrograms per square meter at several monitoring stations in Beijing, reaching as high as 993 Saturday evening.
"These figures represent extremely bad pollution. Pollutants have gradually accumulated over the course of recent windless days, making the air quality even worse," said Zhu Tong, a professor from the college of environmental sciences and engineering at Peking University.
The pollution is expected to engulf Beijing until Wednesday, when wind will arrive to blow the smog away, according to a weather report from the meteorological station.
Related stories:
China issues yellow fog alert
Dense fog shrouds Beijing
Smoggy weather engulfs large areas of China
China pledges $56 billion to cut air pollution
Experts explore Beijing's air pollution
Ref:
http://www.guardian.co.uk/world/2012/mar/01/china-air-pollution-tough-rules
http://www.chinadaily.com.cn/china/2013-01/14/content_16115953.htm